Complete Tour of Morocco starting from Casablanca
Complete Tour of Morocco starting from Casablanca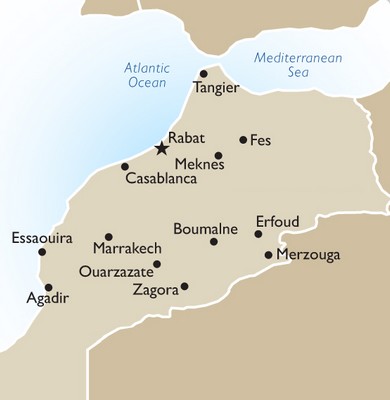 16-day Tour highlighted to the Best of Morocco including the imperial cities, Atlantic coast and the Sahara desert. Learn about Moroccan culture and traditions and enjoy the landscapes diversity
Highlights
Travel in private and air conditioned 4wd car or minivan

Enjoy the stunning landscapes of Morocco
Explore the imperial cities of Morocco including Rabat, Meknes, Fes and Marrakech
Experience camel trekking and overnight stay at a luxury desert camp in Erg Chebbi dunes

Explore the town of Ouarzazate

Discover the fortified village of Ait Ben Haddou
Itinerary
Day 01: Arrival to Casablanca
Arrive to Casablanca and transfer to your riad to relax and get ready for the next day journey.
Day 02: Casablanca – Rabat – Chefachouan
After, breakfast at your riad, your driver will pick you up and drive to see the Hassan II mosque. Explore its imposing architecture and its tall minaret before driving to Rabat. It is the capital of Morocco and is located in the Atlantic Ocean. Discover the most important historical monuments there including Oudaya Kasbah in addition to:
Hassan Tower: it is a minaret of incomplete mosque which dates back to the 12 Century. The minaret was intended to be the largest in the world but the constructions stopped at 44 m (140 ft) after the death of Sultan Yacub al-Mansour in 1199.
Mausoleum of Mohammed V: a historical monument containing the tomb of the Moroccan Mohammed V and his two sons, King Hassan II and Prince Abdallah. The building has a typical roof and beautiful architecture that you will explore during the visit and learn its history with your guide.
After seeing the most important historical and cultural sights, we take the road to Chafchaouen where we will spend the night.
Day 03: Exploration of Chefchaouen
Today we will be exploring the bleu city of Chafchaouen and make sure we explore the most important sights of the city including:
Medina: the medina is one of the greatest things to see in Chafchaouen, it is a beautiful small medina that's easy to explore, but rich historically and culturally. The city buildings are painted blue-white which really makes the medina and city as a whole special and attracting. Explore the 18th Century Kasbah which was built by the legendary Moulay Ismail during his ruling period. It is now a good place with gardens to see during a visit to Chafchaouen. Inside the Kasbah, is an ethnographic museum with antique weapons and photographs of the old city.
The grand Mosque: it is a 15th Century religious remark in the city, which was built by Jewish refugees who escaped from Spain with Muslims. After exploring the mosque, we will have a time to have a local lunch in one of the local restaurants located in the medina. After lunch, walk around the medina and possibly navigated around local shops with different handmade stuff reflecting Moroccan crafts.
Day 04: Chefchaouen – Meknes – Volubilis – Fes.
After breakfast, leave the bleu city and head to see the important sights in the city of Meknes, one of the Moroccan imperial cities along with Rabat, Fes, and Marrakech. Explore the Medina of Meknes and visit Bab Mansour (gate) with beautiful decorations. The gate is located in the medina and overlooking Lahdim Square where you will see snack charmers, story tellers and bands playing music. Just beside the square, located a cafe with a beautiful terrace which is a good place to have lunch or cafe while enjoying a nice view of the square and the medina. After, drive to Volubilis, the old Roman Empire city. Explore the ramparts which are actually fragments of old walls that were hit by an earthquake. Learn about the history of Volubilis and the powers that lived there and left their influence. You can see different drown design that reflect Roman culture and way of life, in addition to a bath that is said to be for Roman Ruler during that time. After exploring this historically rich city, drive to the City of Fes where you will spend the night in a traditional Riad.
Day 05: Sightseeing tour of Fes
Today you have a guided tour of Fes city where you will explore different sightseeing and learn a lot about the history and culture of the Fes. The city is the fourth largest city in Morocco; its medina which dates back to 8th Century is very old and has a rich history. The medina is surrounded with a defensive wall which contains different gates that you should enter from when you want to get to the medina. The gates are imposing and decorated with beautiful mosaics. We will make sure that you explored the most important sights including the oldest university of Kairouine which were built during the 9th Century, Jewish Mellah, Seffraine Square, The Tannery, Mausolem - Zaouia Moulay Idriss, Seffraine Square and Rcife which are considered to be the heart of crafts and manufacturing of all goods.
Day 06: Fes – Midelt – Merzouga
After breakfast, your drive will pick you up from your riad and drive towards the South of Morocco. Pass through Ifran where we will make a stop for drinks and photos before continuing to the Cedar forest of Azrou city by the Middle Atlas. The city is surrounded with Mountains and is situated at a strategic crossroads between Meknes, Fes, Ifran, and Khenifra. After, we will continue our road passing through Timahdet and Zaida while making stops for photos till we get to Midelt where we can have a traditional lunch, then drive through Tizi N Talghamet offering a spectacular view of the Atlas Mounatins. Pass via Errachidia, Erfoud, and other towns before we get the Merzouga which is the heart of the desert. You will be welcomed with a cup of mint tea then settle and relax there in your hotel.
Day 07: Merzouga
You will spend this day exploring the area of Merzouga town and the surrounded villages. Visit the imposing lack of Merzouga and visit the Nomads living around there. You will be introduced to a nomad family in order to discover their daily life and see how they struggle to live from taking care of goats, and possibly camels. Your driver will share with you important information about the life of the Nomads who are always hospital Berbers. It is possible to have a picnic there near the frontiers of Morocco- Algeria away from the crowd and the noise of the city. When you come back to your hotel and after a relaxing time, your camels will be waiting for you to take you on a camel trek with your guide who will be all the time with you to guide you and provide you with tips to live this unforgettable experience while making a stop over the dunes to watch the sunset before continue to your equipped camp in the middle of the dunes where you will dine, listen to Berber music and spend the night under a majestic view of million starts.
Day 08: Merzouga – Todra gorges – Ouarzazate.
You will be woken up at the early morning to watch the sunrise from the top of the dunes. After, you will trek back with your camel guide to your Hotel for showers and breakfast. Then drive to Todra Gorges via Rissani, and other towns. Discover one of the most spectacular canyons of Morocco, located in the eastern part of High Atlas Mountains. Afterwards, we continue to Ouarzazat, the Hollywood of Morocco where you will make a tour inside the Atlas Studio which said to be the world's largest studio. It is found in 1983 and is located 5 km West of Ouarzazate. Dine and overnight in Ouarzazate.
Day 09: Ouarzazate – Tizi N'tichka – Taroudante.
After breakfast, drive over the High Atlas Mountains via Tizi N Tichka enjoying a spectacular view of gorgeous mountains and Berber villages located along the road. During the way, it is possible to visit an Argan cooperative to see how the oil is produced by women who work to earn an income for their family living. Moreover, you may like as well to get some Argan oil with you as Morocco is the only country that produces it. After, continue to Taroundante where we will spend the night.
Day 10: Taroudante – Tafraoute.
Explore Taroudante, a historical city located in the Souss Valley East of Agadir in the Southern Morocco. It is called by some people the grandmother of Marrakech because of its resemblance to Marrakech with important ramparts. Taroudante was in 1056 occupied by Almoravids but was in its golden age during the Saadi Dynasty. So we will be moving along the city to explore the walls and enrich your knowledge with important events and information about its history. Later, move to Tafroute where we will spend the night and relax to get ready for the next day journey.
Day 11: Tafraoute – Essaouira.
After breakfast, explore the city of Tafraoute which is a small Berber city in Moroccan Anti Atas, located 180 km in the South of Agadir. It is a good place for anyone likes to escape from the hassle and the noise of big cities. After, we continue to beautiful city of Essaouira where we will have dinner and spend the night.
Day 12: Essaouira.
Today we have a full day to explore the city of Essaouira which is a fortress city formerly called Mogador. It is located in the Western region of Marrakech- Safi on the Atlantic coast. The city has a long history which is said to be date back to around the end of the 1st century BCE or early 1st century CE. During that time, the Berber king Juba II established a Tyrian purple factory for processing the murex and the shells found the rocks. Explore the Medina that is listed as a UNESCO World Heritage and visit the sea-side medieval town that blusters beautiful white-washed and blue-shuttered buildings. You can have lunch with fresh fish at one of the cafes overlooking the sea. we will be visiting the most famous sights in this beautiful city with a rich history that will take you back to the times when Spain, Portugal, England fought to maintain control over its coasts. Dine and spend the night at a riad/hotel in Essaouira.
Day 13: Essaouira – Marrakech.
After breakfast, we will hit the road to the city of Marrakech enjoying inspiring views during the journey and possibly visit a local cooperative to see women produce argan oil to help their families and participate in the economics of the country. Continue while making stops where it's necessary till we get to Marrakech and drop you off in your traditional Riad.
Day 14: Sightseeing tour of Marrakech.
Spend this day exploring the so called red city of Marrakech which is the first touristic city in Morocco with different attracting sights and historical monuments such as:
The Majorelle Gardens: beautiful gardens designed by Jacque Majorelle and maintained by Yves Saint Laurent. In 1947, Jacque opened the gardens to the public after designing the gardens using special blue colour.
The Koutoubia Mosque and Gardens: the largest mosque in Marrakech, it's a model of the 12th Century mosque which its minaret was completed under the reign of the Almohad Caliph Yaqub al- Mansur (1184-1199). The tower is adorned with four copper globes and is 69 m (221 ft) in height.
El Bahia Palace: Explore El Bahia Palace which a beautiful example of 19th Century Eastern Architecture reflecting the standards of wealthy people living there at that time. It was built between 1894 and 1900 for Ahmed Ibn Moussa and it took about 50 years to build.
Jemma El Fna Square: the most famous place in Marrakech where you can enjoy story tellers, snack charmers, crafts sellers and different folklore music.
The Jewish Mellah: it was founded by Moulay Abdallah in 1558 to offer security for Jewish refugees at that time of the Spanish religious war.
Day 15: Free day in Marrakech.
After a long trip around Morocco, you will have this day free in Marrakech to spend according to your own choice. You may probably like to relax in your riad or maybe going to have a traditional Hammam which will help you a lot in order to relax and enjoy your stay in Marrakech and in Morocco as a whole.
Day 16: Transfer to Airport.
Pick you up from your riad and transfer to the Airport.
This Complete Tour of Morocco can be started either in Tangier, Rabat or Marrakech. Also, it can be customized depending in the length of your vacation in Morocco.
Included
Private 4wd car or minivan for all transfers arrangement

Fluent English speaking driver

Fuel and tolls

10 nights in BB in hotel or Riad in Casablanca, Chefchaouen, Fes, Essaouira and Marrakech

5 nights with HB in hotel or Riad in Erfoud, Merzouga, Skoura, Taroudante and Tafraoute

Local guide in Rabat, Chefchaoune, Volubilis, Fes and Marrakech

Entrances fees to all sightseeing

Lunch in Merzouga
Excluded
Diners in Casablanca, Chefchaouen, Fes, Essaouira and Marrakech

Lunches and drinks

Gratuities (optional)
The following hotels are the ones we are accustomed to using on this tour. We bear in mind replacing them to others of the same category when we have to.
4 stars accommodation
Casablanca:
Club Val D'Anfa hotel
Chefchaouen:
Riad Lina & Spa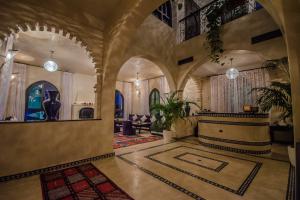 Fes:
Riad El Yacout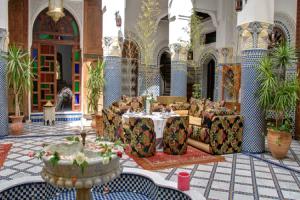 Merzouga:
Riad Madu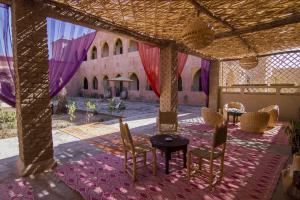 Merzouga:
Bivouac Azawad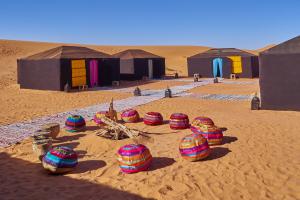 Ouarzazate:
Riad Dar Chamaa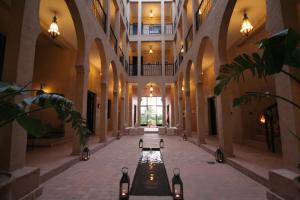 Taroudante:
Riad Tafilag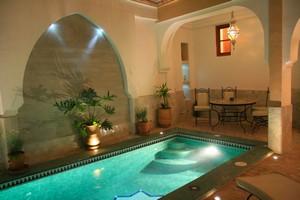 Essaouira:
Riad Chbanate
Marrakech:
Riad Palais Sebban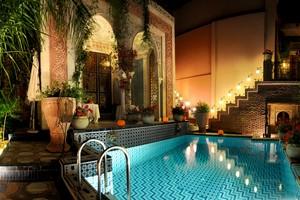 The prices bellow concern every group travelling and based on twin, double and triple occupancy. If anyone wants his own room the single supplement will be added to the group price
4 stars accommodation
Tour details
Starts Casablanca
Ends Casablanca
Duration 16 days
Tour Guide Yes
Meals Breakfast: 16 | Diners: 5 | Lunch: 1
Why book with us?
Best price guarantee
Tour with locals
No additional cost